ASEAN, Japan Sign Protocol to Amend AJCEP
AKP Phnom Penh, March 04, 2019 --
The Association of Southeast Asian Nations (ASEAN) and Japan have signed the Protocol to Amend the ASEAN-Japan Comprehensive Economic Partnership (AJCEP) Agreement in Siem Reap province.
The signing ceremony took place last weekend between ASEAN and Japanese Economic Ministers, at the 7th Regional Comprehensive Economic Partnership Intersessional Ministerial Meeting (7th RCEP ISSL MM) hosted by Cambodia.
According to news release of Ministry of Commerce, the first protocol was signed by H.E. Taro Kono, Japan's Minister of Foreign Affairs, on Feb. 27, 2019 in Tokyo, Japan, which was included in AJCEP to make all chapters on trade in services comprehensive, facilitating the move of physical individual and investment, and to set main targets for economic relations between ASEAN and Japan.
H.E. Pan Sorasak, Minister of Commerce of Cambodia, said that combining all the chapters will serve as a catalyst to strengthen and expand trade in services and investment in order to change ASEAN-Japan strategic partnership into the promotion and support for economic integration in East Asia.
AJCEP was signed on April 14, 2008, and came into force on Dec. 1, 2008. Thanks to AJCEP, the trade and investment volume between ASEAN and Japan has increased gradually. To date, Japan is the fourth biggest trade partner and the second main foreign direct investment (FDI) source of ASEAN.
Figures from the Cambodian Ministry of Commerce show that the two-way trade between ASEAN and Japan was US$219,3 billion in 2017, equal to 8.5 percent of the total ASEAN trade, while the flow of FDI from Japan was US$13,4 billion, about 9.9 percent of the total investment flow to ASEAN.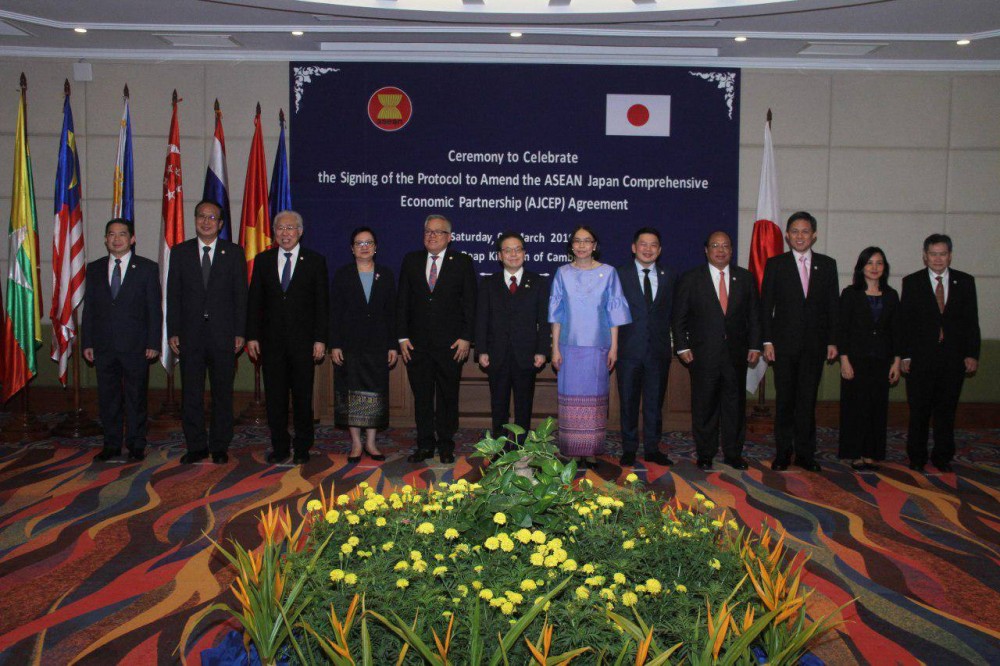 By So Sophavy