Health Ministry Discourages Self Coronavirus Rapid Testing
AKP Phnom Penh, March 29, 2020 --
The Ministry of Health has once again called on people not to use self COVID-19 rapid testing, explaining that there is no any rapid test kit recognised by the World Health Organisation (WHO).
"Currently, many rapid test kits have been produced, but up to now WHO has not acknowledged the accuracy and effectiveness of any of them," said a press release of the Ministry of Health made public this morning.
The effectiveness of rapid testing is very low and the result is unreliable, it underlined.
Moreover, the Ministry of Health of Cambodia has not recognised any rapid test kits and those who sell them without the ministry's authorisation will be punished according to the existing laws.
The ministry thus appealed to the public not to believe in the illegal advertisement, reaffirming that there are only two institutions - National Institute of Public Health and Pasteur Institute of Cambodia - for coronavirus testing in Cambodia, recognised by WHO.
As of this morning, there are in total 103 COVID-19 patients in Cambodia, including 43 Cambodians, 36 French, 12 Malaysians, 5 British, 2 Americans, 2 Indonesian, one Canadian, one Belgian, and one Chinese. Of them, 21 have recovered.
Since the first case detected in Preah Sihanouk province in late January, the COVID-19 pandemic has now hit 13 provinces and capital of Cambodia.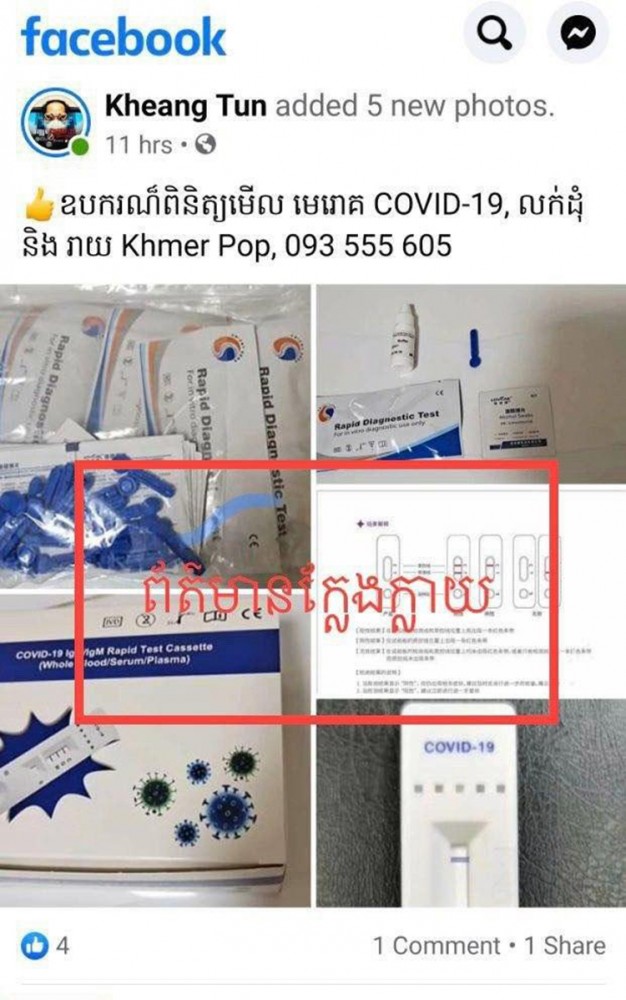 By C. Nika