Key Outcomes of Meeting between Cambodian PM and U.S. Deputy Secretary of State
AKP Phnom Penh, June 02, 2021 --
The following is the key outcomes of the meeting between Samdech Techo Prime Minister Hun Sen and U.S. Deputy Secretary of State Wendy Ruth Sherman at the Peace Palace, Phnom Penh on June 1, released this afternoon by the Cambodian Ministry of Foreign Affairs and International Cooperation.
Key Outcomes of the
Meeting Between Samdech Techo Prime Minister Hun Sen
and the U.S. Deputy Secretary of State Wendy Ruth Sherman
In the afternoon of 01 June 2021, Samdech Akka Moha Sena Padei Techo Hun Sen, Prime Minister of the Kingdom of Cambodia, received a courtesy call from the U.S. Deputy Secretary of State, H.E.Mrs Wendy Ruth Sherman, at the Peace Palace in the Capital City of Phnom Penh.
At the meeting, H.E. Mrs. Sherman conveyed a letter of the U.S. President Joe Biden to Samdech Prime Minister expressing his intent to improve the relations between the two countries. She expressed satisfaction with the Cambodia-U.S. cooperation on a wide-ranging aspects, notably on Trade and Investment, the POW/MIA program, counter-terrorism and humanitarian affairs, in particular in granting permission for Westerdam cruise ship to dock at Cambodia's port and in humanitarian demining. She informed further Samdech Techo of opportunities under various bilateral arrangements, including debt settlement and U.S. investment in the oil and gas sector, infrastructure, green energy, among others.
Samdech Techo Hun Sen noted with satisfaction the afore-mentioned topics that H.E. Mrs. Sherman raised, and truly appreciated the U.S. contributions to Cambodia in the peace process and subsequent economic development, in particular in the recent efforts to combat against the COVID-19 pandemic through WHO. Samdech Techo took the opportunity to congratulate the U.S. government for its successful containment of the spread of the COVID-19, as evidenced by the recent dramatic decline in daily infections of the COVID-19 in the U.S.
Samdech Techo, once again, clarified the situation at Ream naval base and reiterate the strong determination of the Royal Government of Cambodia to maintain and protect its independence, neutrality and sovereignty in both domestic and foreign policy.
Samdech Techo proposed to the U.S. government to consider a bilateral mechanism to work out the debt settlement by:
Allowing a gradual repayment scheme to the debt,
Repayment scheme to the debt with an interest rate not higher than 1%, and
Converting 70 percent of the repayment to development aid in favor of education, culture and removal of mines and explosive remnants of war in the kingdom.
Samdech Techo informed H.E. Mrs Sherman about the commitment of the government with regards to the deportation program of Cambodian nationals from the US based on the respect of human rights, humanitarian and compassionate aspects.
H.E. Mrs. Sherman extended her appreciation to Samdech Techo Prime Minister for all areas of bilateral cooperation and pledged to convey the above-said proposals to President Biden for his consideration.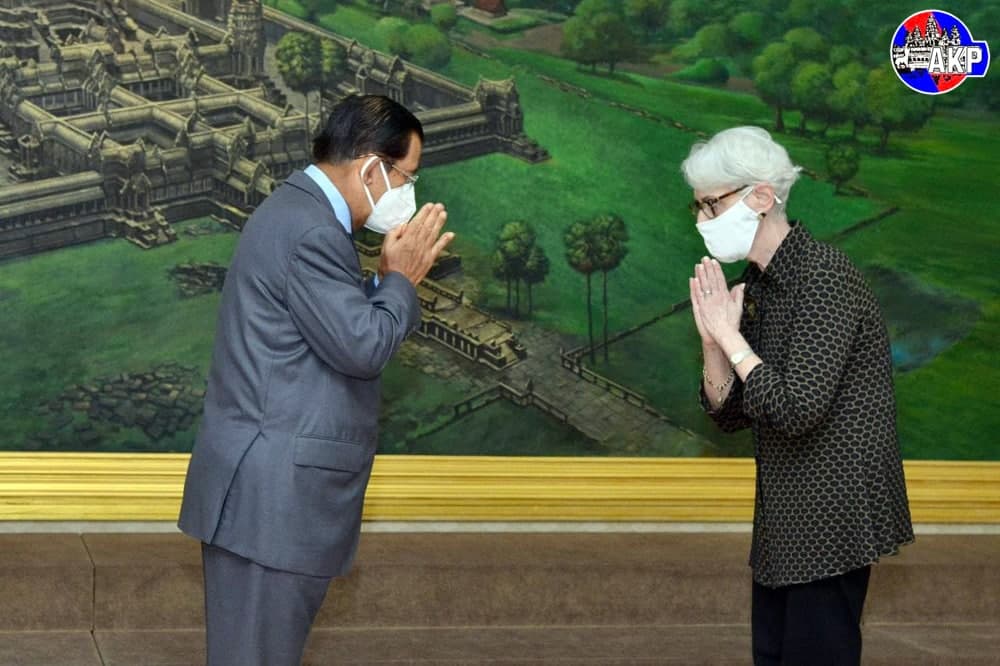 By C. Nika