India Plans Many Aid and Investment Projects in Cambodia
AKP Phnom Penh, January 20, 2021 --
India has planned many aid and investment projects in Cambodia, particularly in the areas of health, tourism, trade, social affairs, and so on.
The projects were confirmed by H.E. Dr Devyani Uttam Khobragade, newly appointed Indian Ambassador to Cambodia, during her courtesy visit to Samdech Akka Moha Ponhea Chakrei Heng Samrin, President of the National Assembly (AN), held at the NA Palace in Phnom Penh on Jan. 20.
The projects include the restoration of the Temple of Preah Vihear, a world heritage site, the promotiont of the use of clean water in rural areas, the fight against malaria and the capacity building of members of Parliament and officials, she pointed out
The new ambassador is determined to encourage more Indian investors to invest in Cambodia, especially in the health sector, and to promote the establishment of a direct flight between the two countries.

India will digitally promote people-to-people relations and build a highway to ASEAN Member States, she added.
For his part, Samdech Ponhea Chakrei Heng Samrin expressed warm welcome to the diplomatic mission of Dr Devyani Uttam Khobragade in Cambodia, which will further strengthen the ties of friendship and cooperation between the two nations.
The NA president recalled the long-standing good relations between both countries, especially in the artistic, cultural and religious sectors, and thanked India for its assistance in Cambodia's human resource training.
Samdech Ponhea Chakrei Heng Samrin spoke highly of the good cooperation between the two countries' legislative bodies, which has been consolidated through the exchange of visits, mutual support at interparliamentary forums, in the region and the world.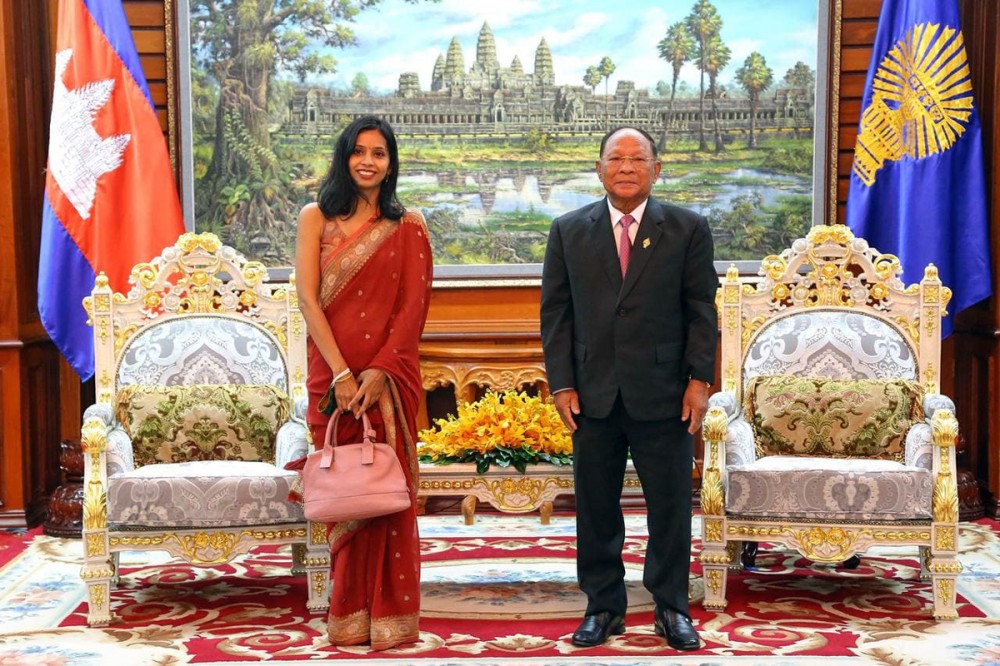 By C. Nika