Water Volume in Tonle Sap Lake Still Below All-Time Lows
AKP Phnom Penh, August 20, 2020 -- The Mekong River Commission (MRC) says the volume of water in the Tonle Sap Lake is still below all-time lows.
In a weekly situation report, the MRC's Flood and Drought Management Centre in Phnom Penh said low inflows from the Mekong River and tributaries in the early wet season resulted in a "very critical situation" for the lake.
The centre reported last week that the annual reverse flow of the Tonle Sap River did not begin in earnest until Aug. 4. The delayed reversal followed two "extremely small and brief instances" in July, it said.
More than half of the annual inflow into the lake originates from the Mekong mainstream.
"The low inflows from the Mekong River are most likely affected by less rainfall in the upper sub-catchment areas," the centre said.
The Upper Mekong Basin in China is estimated to account for about 16 percent of the water discharged by the river into the sea through the Mekong Delta in Vietnam.
The biggest contribution is estimated to come from two major left-bank tributaries between Stung Treng and the Lao capital of Vientiane. These account for more than 40 percent of the river's discharge, the MRC says.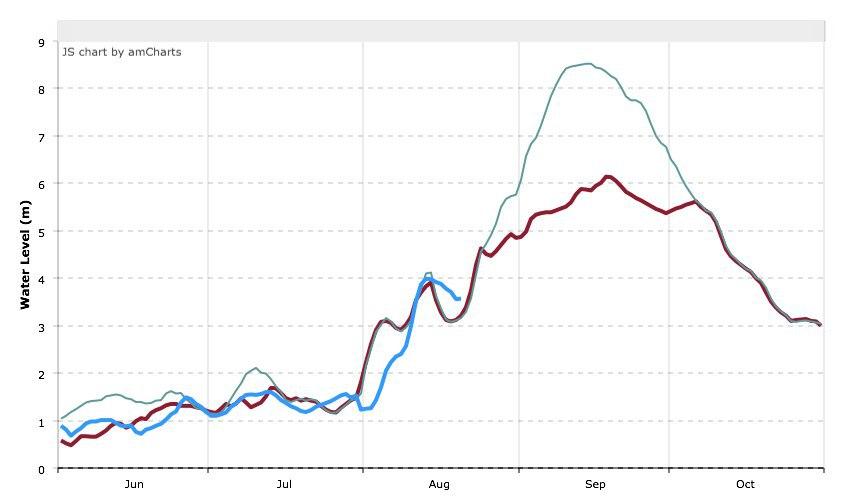 (Hydrograph of water levels on the Tonle Sap River at Phnom Penh Port as of 07:00 Thursday (blue) compared with all-time lows (brown) and last yer's levels (green): MRC)
By Sao Da