Cambodia, China Strengthen Cooperation amid COVID-19 Pandemic
AKP Phnom Penh, June 16, 2020 --
Cambodia and China on Tuesday agreed to further strengthen the cooperation between the two countries amid COVID-19 pandemic, pointed out a joint press release issued after the 5th Meeting of the Cambodia-China Intergovernmental Coordination Committee via Videoconference this morning.
The meeting was co-chaired by H.E. Hor Namhong, Deputy Prime Minister of the Kingdom of Cambodia, and H.E. Wang Yi, State Councilor and Minister of Foreign Affairs of the People's Republic of China.
"Both sides agree that the bilateral relationship has entered a new era since the signature of the Action Plan of Forging the Cambodia-China Community of Shared Future last April. The two sides have stayed in close high-level exchanges, with cooperation in all areas being promoted comprehensively," it said.
According to the same source, both sides noted that Cambodia and China have been helping each other to overcome the difficulties, which is a full reflection of such core essence as standing together through thick and thin of a community of shared future.
Cambodia appreciated China for dispatching medical expert groups, providing anti-epidemic materials to Cambodia, and helping Cambodia to mitigate the shortage of raw materials for production. China expressed its willingness to continue offering assistance and support to Cambodia within its capacity.
Moreover, they agreed that the bilateral relationship is represented with new opportunities this year, which marks the 10th anniversary of Cambodia-China comprehensive strategic partnership of cooperation, pledging to continue promoting strategic cooperation to inject new impetus to the construction of the community of shared future.
Both sides emphasised to enhance cooperation in national defense, negotiate a memorandum of understanding on military health cooperation, and continue cooperation in such concrete projects as joint military exercises, development of military academies.
They pledged to jointly promote the Belt and Road Initiative in high quality, including the development of Preah Sihanouk province as Multi-Purposed Special Economic Zone, and other major projects.
Also, they will speed up implementing the newly-signed agreement on the export of Cambodian mangos to China, and actively expand exports of Cambodian bananas, cassavas and other quality agricultural products.
The joint press release stated that China will actively consider providing funding support for infrastructure projects of Cambodia's priority concerns, including highways, bridges, power grids, water conservancy and irrigation systems, etc. China will also continue its support to Cambodia in improving people's livelihoods.
Both sides agreed to negotiate new implementation plans for cultural cooperation and agreements on educational, scientific and technological cooperation. The two countries will encourage more tourists to visit each other to promote resurrection of the tourism industry.
China will establish a consular office in Preah Sihanouk province of Cambodia, and Cambodia will establish a Consulate General in Jinan City of China.
In the multilateral frameworks, both sides agreed to work together to continue coordination within multilateral frameworks such as the Mekong-Lancang cooperation, the ASEAN-China cooperation, the East Asia cooperation, and the UN.
Both sides maintained that faced with COVID-19 pandemic, a major challenge for all mankind, all parties should work together to oppose politicisation, stigmatisation, racism and exclusivism in any form, to support the UN, WHO and to jointly establish a community of health for mankind.
Both sides agreed that the 6th Meeting of the Committee will be held in China in 2022.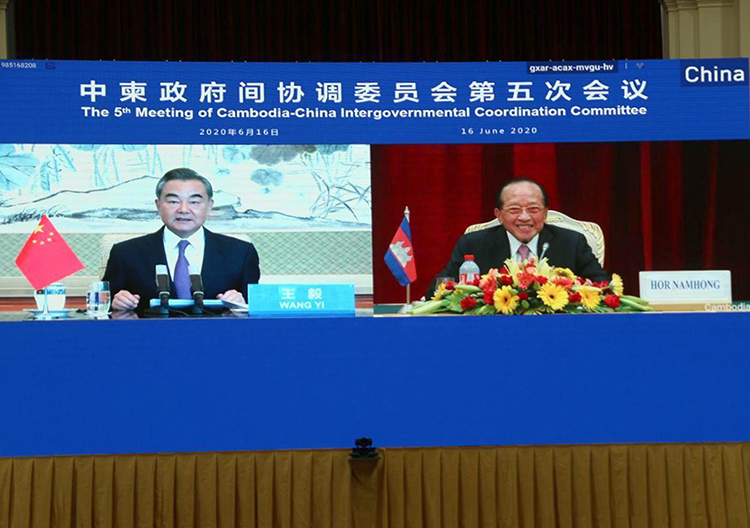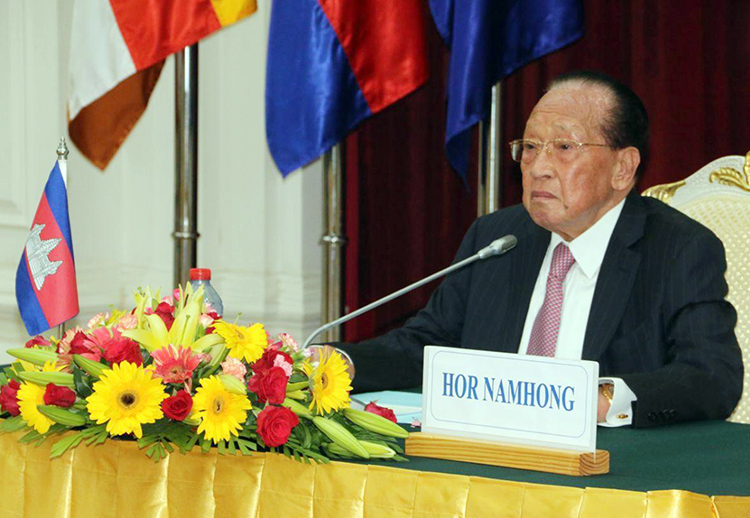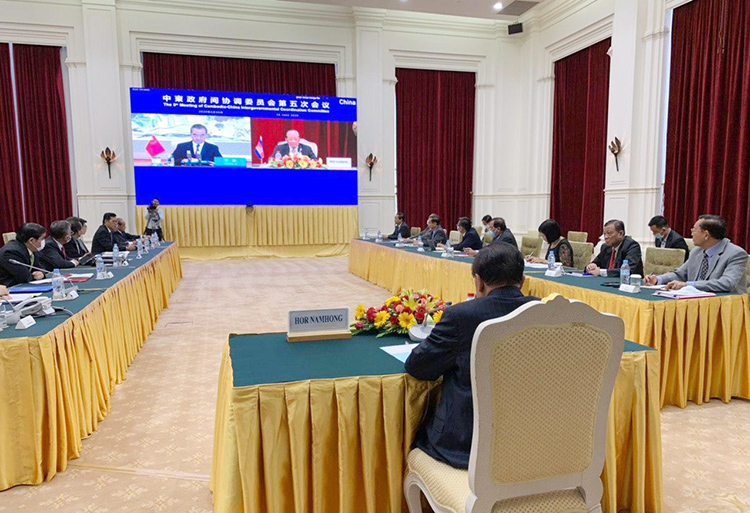 (Photo: Khem Sovannara)
By Chea Vannak