Cambodian PM Receives Palau Vice President
AKP Phnom Penh, November 19, 2019 --
Cambodian Prime Minister Samdech Akka Moha Sena Padei Techo Hun Sen received here this morning at the Peace Palace visiting Vice President of Palau H.E. Raynold B. Oilouch, on the sidelines of the 2nd Asia Pacific Summit (APS) hosted by Cambodia.
According to H.E. Sry Thamrong, Minister Attached to the Prime Minister, H.E. Raynold B. Oilouch expressed his delight to attend the 2nd APS in Phnom Penh, saying that it will open new page for both countries' historical cooperation.
The vice president of Palau noted that both nations had established their diplomatic ties for many years ago, but there have been so far very limited joint activities as they are far away from each other.
H.E. Raynold B. Oilouch took the opportunity to invite Samdech Techo Hun Sen to attend the 2020 Our Ocean Conference and another Asia-Pacific summit in December this year in Palau.
For his part, Samdech Techo Hun Sen shared the same idea with H.E. Raynold B. Oilouch over the promotion of relations and cooperation between Cambodia and Palau, suggesting a memorandum of understanding (MoU) on consultations between the two countries' foreign ministries, which will allow them to explore the fields for bilateral cooperation.
The next step is to sign the MoU on visa exemption for diplomatic and official passport holders, then the agreement on trade and investment protection, he added.
The Cambodian Premier also invited the President of Palau and Madam to pay a visit to Cambodia, and gave a positive reply to H.E. Raynold B. Oilouch's invitation to attend the two upcoming events in Palau.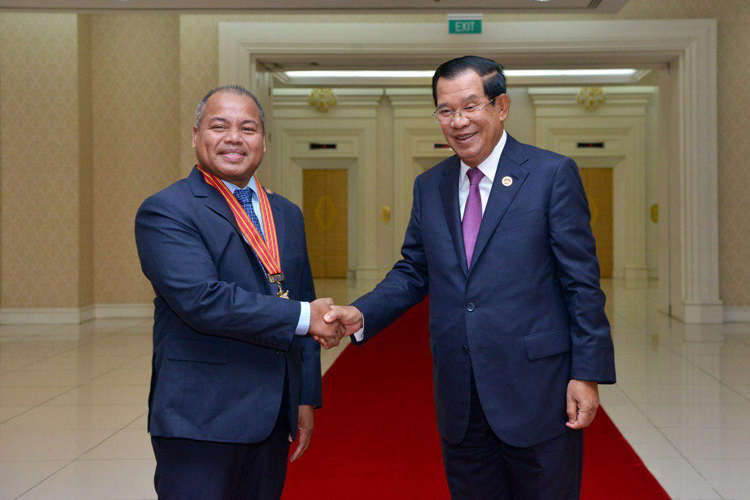 By Khan Sophirom