Consultative Meeting on ASEAN Humanitarian Assistance to Myanmar Concluded 
AKP Phnom Penh, May 06, 2022 --
The Consultative Meeting on ASEAN Humanitarian Assistance to Myanmar was held here on May 6 with an aim to bring COVID-19 vaccines and aids to the people of Myanmar.
Deputy Prime Minister H.E. Prak Sokhonn, Minister of Foreign Affairs and International Cooperation of Cambodia as the ASEAN Chair's Special Envoy on Myanmar made the point here this afternoon, at a press briefing on the outcomes of the meeting.
The day-long meeting was co-chaired by H.E. Prak Sokhonn and H.E. Dato Lim Jock Hoi, Secretary-General of ASEAN in the capacity as the ASEAN Humanitarian Assistance Coordinator (SG-AHAC) with the participation from different stakeholders, including Ms. Joyce Msuya, Assistant-Secretary General for Humanitarian Affairs and Deputy Emergency Relief Coordinator of UNOCHA in New York.
The meeting provided a high-level platform for ASEAN to initiate a multi stakeholder dialogue that serves to provide guidance on how to advance ASEAN's humanitarian assistance to the people of Myanmar based on humanitarian principles and without discrimination, H.E. Prak Sokhonn said.
The special envoy added that the participants discussed mutually agreeable solutions on how to enhance the delivery of humanitarian assistance in Myanmar whilst leaving no one behind; how to address the operational challenges faced by the ASEAN Coordinating Centre for Humanitarian Assistance on disaster management (AHA Centre); and how to support the distribution of COVID-19 vaccines to all communities in Myanmar.
The AHA Centre and Ministry of Health of Myanmar (MoH-Myanmar) were commissioned to carry out the joint vaccine administration framework between partners and MoH-Myanmar in hard-to-reach areas, he continued.
In this framework, he underlined, the team work, composed of 50 percent from MoH-Myanmar and 50 percent from partners will be sent to the target communities for the vaccination work.
With consultations with MoH-Myanmar and based on evaluation on common needs, the AHA Centre will identify and verify the areas in need, and the centre can give recommendations to donor and potential partners, said H.E. Prak Sokhonn.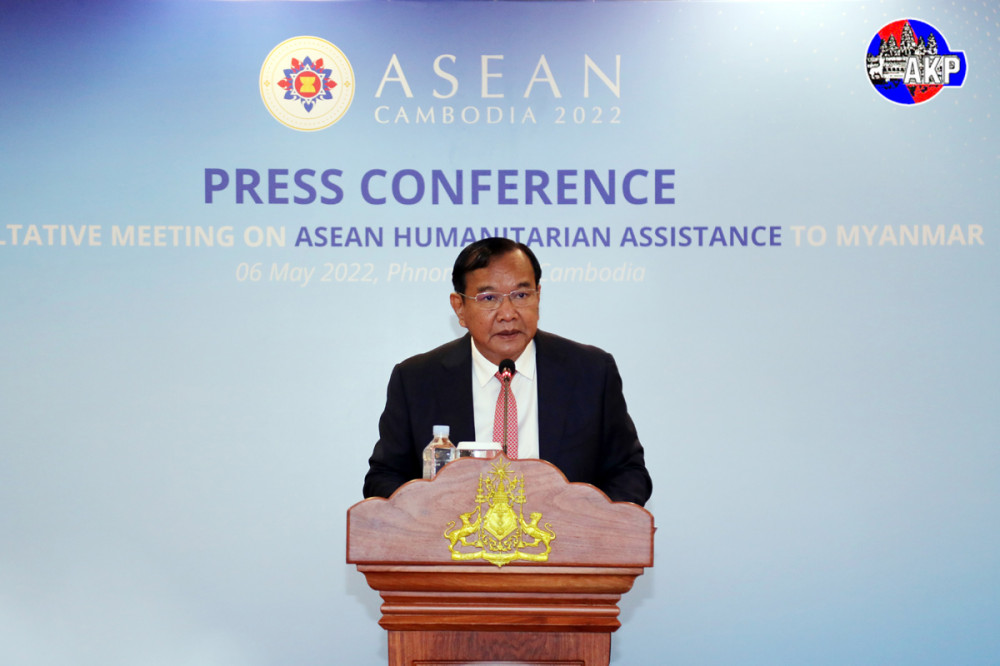 By Heng Panha